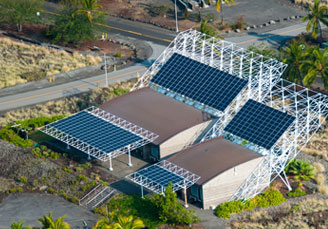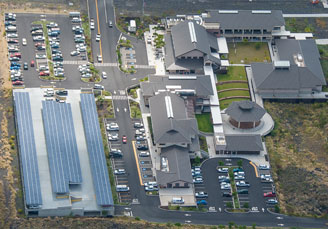 NELHA Gateway Energy Center and West Hawaii Civic Center
Energy
Hawaii Island leads the way in natural energy production and has already met the state's 2030 energy goal of 40% Renewable Generation/Consumption. As the statewide leader for renewable energy production and usage, Hawaii Island has pioneered new methodologies and now generates well over 40% of electricity usage from renewable sources.
Clean Energy Portfolio
Geothermal – Hawaii's most abundant firm source of renewable energy
Wind – First Hawaii wind farms developed here
Solar – Highest percentage of photovoltaic arrays on an island grid
Hydropower – Tropical rains feed turbines
Biofuels – Abundant ag lands produce locally-grown biofuels
Hawaii Island has consistently led the way in clean technologies with the first ocean thermal energy conversion at the Natural Energy Laboratory of Hawaii, the new model for powering public facilities with the 250-kW photovoltaic system at West Hawaii Civic Center, a 100kW-250kWh Lithium-Ion renewable storage battery, the integration of electric vehicles in the county fleet and the addition of hydrogen buses for public transportation.
The Department's Energy Program is comprised of Renewable Energy Projects and Initiatives, Economic Development in Energy, Emergency Preparedness and Regulatory/Legislative Representation for island residents.
Hawaii Clean Energy Initiative
Hawaii State Energy Office
NELHA
Economic Research Organization at the University of Hawaii Energy and Greenhouse Gas Solutions Project
Hawaii Island Economic Development Board
Hawaii Preparatory Academy Energy Lab
The Kohala Center