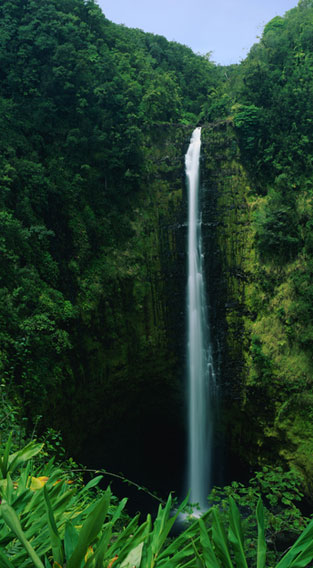 Resources and Sustainability
Centrally located in the Pacific Ocean, Hawaii Island is the youngest, tallest, biggest and southernmost island in the 50th State. Biodiversity thrives here, thanks in part to our geographically remote location and mild tropical climate, yet many species are threatened or endangered. Sustainable economic development helps to protect Hawaii Island's exceptional natural environment and rich natural resources.
Volcanically active, Hawaii Island holds immense geothermal potential. Geothermal now supplies approximately 20% of Hawaii Island's electrical needs and is Hawaii's most abundant firm source of renewable energy. Wind, solar, hydropower and biofuels add to the diverse clean energy portfolio.
Mauna Kea and Mauna Loa rise well over 13,000-feet above sea level and host international scientific facilities that have led to dramatic discoveries on climate change and astronomical research.
And below the ocean surface, diverse marine life and rapid access to deep-ocean depths allow for advanced study, applied research and thoughtful commercial development.
Hawaii Island presents unique assets and opportunities for investment, innovation and global impact.
Natural Resources
DLNR Aquatic Resources
DLNR Forestry & Wildlife
Hawaii Conservation Alliance
Hawaii Forest Industry Association
Hawaii Forest Institute
UH School of Ocean and Earth Science and Technology
UH Hilo College of Agriculture, Forestry and Natural Resource Management
Resource Links
County of Hawaii Agriculture
University of Hawaii Hilo
Hawaii Preparatory Academy Energy Lab
The Kohala Center    
National Park Service
Hawaii State Parks 
Sustainability
Hawaii Clean Energy Initiative
Hawaii County Food Self-Sufficiency Baseline Study
Hawaii State Energy Office
Office of Mauna Kea Management
NELHA
Hawaii Zero Waste – Department of Environmental Management
Economic Research Organization at the University of Hawaii – Project Environment
Economic Research Organization at the University of Hawaii – Energy and Greenhouse Gas Solutions
Hawaii Directory of Green Employers
NOAA Earth System Research Laboratory Global Monitoring Division