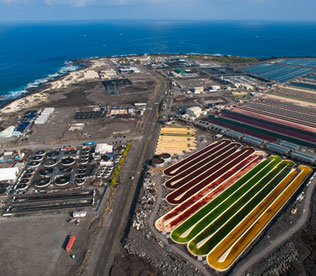 Science and Applied Research
Hawaii Island's exceptional natural environment and rich natural resources offer compelling and competitive opportunities for investment, innovation and global impact.
As the highest point in the Pacific Basin, the summit of Mauna Kea is extremely dry, accessible, cloud-free and above 40% of Earth's atmosphere making it the finest location for land-based astronomy in the world.
Mauna Kea hosts 13 observatories from 11 countries encouraging collaboration and incredible scientific discoveries. Its location near the equator allows viewing of all the skies in the northern hemisphere and most of the skies in the southern hemisphere.
Downslope, Imiloa Astronomy Center of Hawaii, UH Hilo's comprehensive educational facility, showcases connections between the rich traditions of Hawaiian culture and astronomical research atop Mauna Kea.
Global Leadership
The diverse marine life found alongside coastal communities and rapid access to deep-ocean depths allow for advanced study, applied research and thoughtful commercial development.
Deep and surface seawater is pumped through multiple pipeline systems to start-ups, advanced operational demonstration facilities and established national and international laboratories at the 870-acre oceanfront Natural Energy Laboratory of Hawaii Authority (NELHA) in Kona.
And the U.S. Pacific Basin Agricultural Research Center (PBARC), headquartered in Hilo, conducts research for development of sustainable agricultural systems of global importance.
Links and Resources
Pacific International Space Center for Exploration Systems
Hawaii Space Exploration Analog and Simulation
NOAA Earth System Research Laboratory Global Monitoring Division
University Research Park
Imiloa Astronomy Center
UH School of Ocean and Earth Science and Technology